Balmiki Meetha Mawa Plus Mouth Freshener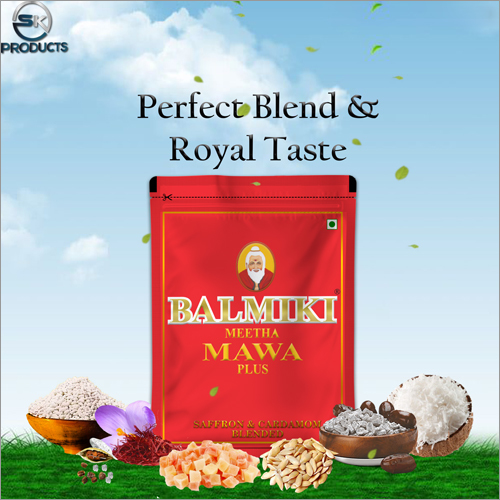 Balmiki Meetha Mawa Plus Mouth Freshener
Price And Quantity
1 box ( 21 pouch)

Box/Boxes
Product Specifications
Product Description
Balmiki Meetha Mawa Plus is the highest quality and the most nutritious mouth freshener ever. It is a unique and traditional mix of various nuts and seeds like dates, pumpkin seeds, dried papaya, coconut flakes with the blend of cardamom and saffron which will not only give your taste buds an exotic treat but also your body a healthy boost. It is not only extraordinary and savoury in its taste but is also extremely healthy as each ingredients brings its own distinctive health benefits. It is a wholesome and a nutritious product to improve and maintain your health on a regular basis.
Price -

1 Pouch - Rs 10/-
1 Box (21 pouch) - Rs 210/- (Retail Price) and Rs 140/- (Distributor Price)

Following are the list of health benefits each ingredients provide -

Silver Coated Dates -

Highly Nutritious
High concentration of Anti- Oxidants
Prevents Microbial Infections
Pumpkin Seeds -
Full of valuable Nutrients

Improve prostate and bladder health
High in Magnesium and Fibre
Helps improve sleep
Dried Papaya -
Promotes heart health
Lowers blood pressure and stress level
Boosts energy
Enhances Immune system
Coconut Flakes -
Contains powerful anti oxidants
Promotes blood sugar control
Benefits heart health
Highly nutritious
White Coated Sauf -
Helps regulate Blood Pressure
Reduce Water Retention
Helps purify blood
Saffron -
Helps fight Inflammation & Arthritis
Enhance Immunity
Good for skin and hair.
Cardamom -
Anti-microbial ability
Anti-cancer properties
Prevents ulcer
Treat bad breath and prevent cavities
Other Details
1 Box: 21 Pouch
1 Cartoon : 50 Box
Export: Worldwide
Payment Terms: As per discussion
Free Sample Available All Over India And Overseas!
Contact Us
B No. 50, 2nd Floor, 50 Burtolla Street, Kolkata, West Bengal, 700007, India
Phone :+918037261782